one of my best friends was coming over to play SWOS on my Amiga 1200 (he doesn't play online nonetheless he's pretty skillful and agreed to be my sparring partner for an entire afternoon since I need as much training as possible Vs. human opponents - I'm going to attend the World Championships along with the rest of the italian team later this week btw) but called while on the way here to inform me that he had forgotten to pick up his joystick.

I was like "damn, I can't miss this training session, I've got to do something about it"...so this is what I've managed to put together with a bunch of scrap parts and some leftovers from my previous custom-stick in roughly a hour and a half (I knew he used to love the TAC2/Competition PRO-style controllers back in the days so that's what inspired the design):




not as polished as I would have liked but not too shabby either for just a couple hours of work. I'll prolly tweak it a bit next week and get it painted.

By the way, You can either keep it in your right hand Konix Speedking-style (hence the lateral button, you'd push it with your right thumb while holding the stick with your left hand) or place it on a table/desk and use it just like any other arcade-stick.

For those who're curious I got the "Challenge Court" logo from an old tennis shirt I used to wear in the 90's (it belonged to some overly colorful line of clothing made by Nike that Andre Agassi used to wear back then), I just folded it and scanned the huge print on the back lol.

So yeah, does anybody need a joystick for the Days? :P


EDIT: the SWOS Italian team shirt has finally arrived ("Retrieving" is my nickname in the SWOS scene):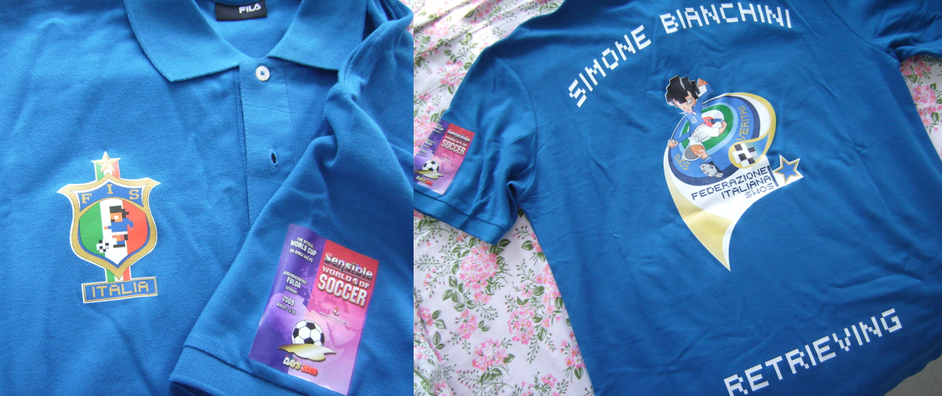 shit just got real!